Avocado Salad with Fried Jalapeños and Spicy Avocado Dressing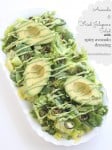 2 hearts of romaine lettuce chopped
2 scallions chopped
2 jalapeños, sliced into rings
2 Ripe California Avocados (1 1/2 for salad (one sliced put lemon or lime juice to preserve the color and 1/2 for dressing)
1/3 cup oil
1 egg yolk
1 teaspoon minced garlic
small bunch fresh cilantro leaves for salad and 1 tablespoon chopped for dressing
In a small pot heat 1/4-oil in saucepan on high for 1 minute.
Add sliced jalapeños and cook 2-3 minutes or until crisp.
Remove jalapeños from oil and drain on a paper towel.
Let oil cool.
Place romaine on plate and top with scallions and cilantro.
Slice avocados in half and place three halves on top of salad.
Dice the 4th avocado half for dressing.
Place the cooled oil, juice of a lime, one egg yolk, garlic, cilantro and salt into a small blender or food processor and blend until thick and creamy, add in avocado and mix until smooth.
Place dressing in a bag and cut off the end and drizzle over salad.
Recipe by
Created by Diane
at https://www.createdby-diane.com/2014/06/avocado-salad-with-fried-jalapenos-and-spicy-avocado-dressing.html