guacamole with goat cheese and bacon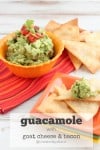 2 large ripe California Avocados
3 pieced cooked bacon diced
1 1/2-2 oz goat cheese (cut into small pieces)
1 tablespoon fresh chopped cilantro
10 grape tomatoes diced or 1 medium tomato diced
1 lime juiced
1/4 teaspoon cumin
1/2 teaspoon salt
2 scallions diced
flour tortillas
oil for frying tortillas
Cut, dice and remove avocado in the skin and place it in a medium bowl.
Mix in bacon, goat cheese, cilantro, tomato, lime juice, cumin, salt, and scallions.
Cut flour tortillas like a pie to create triangles.
Heat oil to 375 degrees in a 4-inch deep pan to prevent splattering, place some cut tortillas in oil and cook until golden, drain on paper towel and salt as desired. Repeat until will all cut tortillas in batches don't overcrowd pot or the may stick together and not fry evenly.
Flour tortillas have a lighter flavor than corn tortillas and they allowed for the delicious goat cheese and bacon taste in the guacamole to really come out. Of course, this guacamole would be delicious with corn tortillas but for a fun change try flour tortillas
Recipe by
Created by Diane
at https://www.createdby-diane.com/2014/06/guacamole-with-goat-cheese-and-bacon.html