Chocolate Chip Scones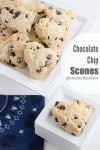 2 cups flour
1/2 cup brown sugar
3 teaspoons baking powder
1 teaspoon salt
1/2 cup cold unsalted butter
1/2 cup heavy cream
2 eggs
1 1/2 teaspoons butter vanilla extract (alternatively use 1 teaspoon vanilla extract and 1/2 teaspoon butter extract)
3/4 cup chocolate chips
Preheat oven to 400 degrees
Blend flour, brown sugar, baking powder, and salt.
Cut in cold butter until mixture resembles coarse crumbs.
Add in heavy cream, eggs, extract, and chocolate chips
Mix gently until combined, knead out on a lightly floured surface.
Roll dough out between wax paper to 1/2 inch thick.
Cut with knife or cookie cutter.
Place on a parchment-lined baking sheet and bake at 400 degrees for 12-15 minutes until lightly golden and tested with a toothpick comes out clean.