Cheesy Olive Crostini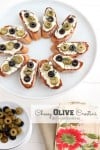 1 baguette focaccia or crusty bread
1 cup Ricotta Cheese
2 teaspoons garlic (I use Gourmet Gardens)
1 cup micro-planed Parmesan Cheese
1 tablespoon fresh lemon juice
½ teaspoon salt
¼ teaspoon ground black pepper
½ cup sliced ripe California Black Olives (I used Early California Olives)
½ cup sliced ripe California Green Olives (I used Early California Olives)
6 fresh basil leaves thinly sliced
Slice baguette on a diagonal in one inch pieces.
Mix Ricotta with Parmesan, garlic, lemon salt and pepper.
Heat in microwave just till slightly warm 10-15 seconds. (to take the chill of the cheese and release the garlic flavor into the cheese, not hot or it will become thin)
Place pieces of bread flat on a try and broil for 2 minutes or until golden and lightly crisp on the edges.
Spread about 2 tablespoons of mixture onto each piece of bread and to with olives, additional parmesan cheese and salt and pepper to taste along with thinly sliced fresh basil.