Coconut Chicken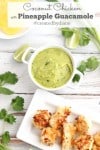 1 pound chicken cut into 1 inch pieces
2 eggs
2 tablespoons water
1 1/2 cups coconut
Place eggs and water in a shallow bowl and whisk.
Place the pieces of chicken into the egg mixture then roll them in coconut.
Stovetop: Place 2 tablespoon oil into a large skillet, and cook chicken on medium heat until cooked through.
Baked: place chicken on a nonstick baking pan and bake at 350 degrees for 20-25 minutes until cooked thoroughly.
*If the coconut seems to be browning way before the chicken is cooked on either method, just lower the temperature and add a few minutes to the time.