sprinkle cookies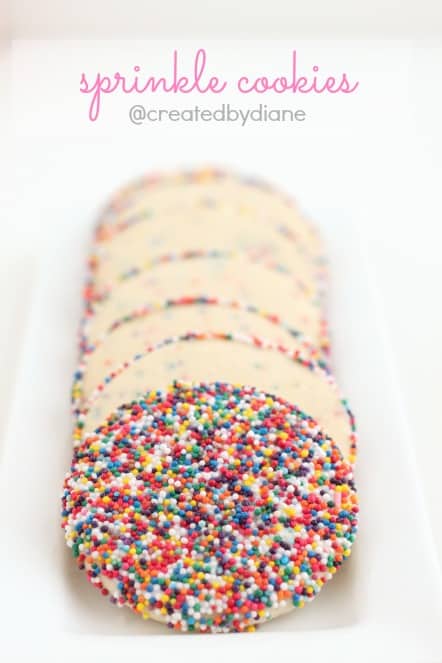 1 cup unsalted butter
1 ½ cups powdered sugar
1 egg
2 teaspoon vanilla extract
2 ¾ cups all purpose flour
2 teaspoons baking powder
1 teaspoon salt
2 tablespoons multi-colored nonpareil sprinkles
for decorating
corn syrup
nonpareil sprinkles
Cream together butter and powdered sugar.
Add the egg and vanilla.
Add in the flour, baking powder, and salt and sprinkles.
Mix until the dough is well blended and smooth.
It will pull away from the sides of the mixer bowl.
Roll out the dough between wax paper sheets for 1/4 inch thick and cut with cookie cutter.
Bake at 400° for 7-8 minutes.
When the cookies are completely cooled, place a small amount of corn syrup on a paintbrush or the tip of your finger and smooth it on the edges of the cookies. If you want the whole cookie coated you can use corn syrup or glaze icing, then place the sprinkles in a shallow dish and press the prepared area into the sprinkles.
Allow them to dry completely before stacking.
Bake at 400° for 7-8 minutes.