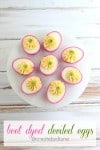 For each dozen eggs I add:
¼ cup non fat greek yogurt
1 tablespoon mayonaise
½ teaspoon dry mustard
salt and pepper
I mix the egg yolks with a pastry cutter then mis the ingredients into the egg yolk then puree the mixture with a hand held blender. If it still has lumps I strain it through a strainer.
I then place the mixture into a piping bag fitted with a #857 piping tip and pipe the mixture into the egg white halves and top them with chopped scallions.