Lemon Waffle Cookies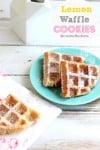 Serves:
12 cookies quarters
1/2 cup butter melted and cooled
1 1/4 cup sugar
2 eggs
1/2 teaspoon lemon extract
1/2 teaspoon vanilla extract
1 3/4 cups flour
1/4 teaspoon baking powder
Heat waffle iron. (I cooked these waffle cookies on the medium heat setting on my waffle iron until they were golden)
In a mixer beat sugar and butter until fluffy.
Add in one egg at a time and mix until completely incorporated.
Mix in the lemon and vanilla extracts.
Add in the flour and baking powder and mix until batter is smooth and pulling away from sides of the bowl.
Place 1 cup of batter onto the heated and oiled waffle iron.
Cook until golden.
Use two wood skewers to remove cookies and allow them to cool.
Top with powdered sugar and serve.
Store leftover cookie in an airtight container.