Margarita Curd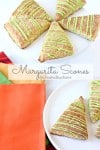 1 cup Margarita Mix (I used the mix with alcohol in it, you can use the mix without if you prefer)
1 cup sugar
1/2 lime, juiced
5 egg yolks
8 tablespoons butter
1 drop leaf green coloring
Place margarita mix, lime juice along with sugar into medium sauce pan, heat until it simmers (tiny bubbles on the outside edge of saucepan).
Add butter and heat until melted.
Mix egg yolks in medium bowl with whisk.
Add in coloring
Take saucepan off heat and slowly pour mixture into egg yolks mixing continually so the eggs don't scramble.
Return mixture to saucepan and heat for one more minute or until the mixture coats the back of a spoon.