Margarita Scones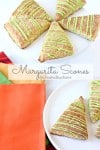 2 cups flour
1/2 cup sugar
3 teaspoons baking powder
1 teaspoon coarse Salt
1/2 cup ice cold butter, cut into small pieces
4 drops Lorann's lime oil
2 drops Lorann's lemon oil
1/4 cup margarita mix (I used the mix with alcohol in it, you can use the mix without if you prefer)
1/4 cup heavy cream
2 eggs
In medium bowl, mix flour, sugar, baking powder and salt.
Cut in cold butter with a pastry cutter until it resembles coarse crumbs.
Mix Margarita mix and heavy cream with lime and orange oil along with eggs.
Blend the wet ingredients into the dry ingredients until it's just combined.
Roll out dough onto lightly floured surface (I roll out the dough onto floured wax paper sheets)
Cut dough into desired shape
Place scones onto parchment lined baking sheet
Bake at 400 degrees for 10 minutes.