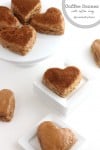 3 tablespoons hot water
2 tablespoon instant coffee
1 cup powdered sugar
1 tablespoon corn syrup
1 teaspoon vanilla extract
Mix hot water with coffee, add to it the powdered sugar, corn syrup, and vanilla.
The mixture should be free-flowing and smooth to glaze over the scones.
I used a silicone pastry brush and applied the glaze to the top, then down the sides of the scones.
For extra coffee flavor, I put some instant coffee into a mesh strainer and pressed down on it to break up into smaller pieces on top of the wet icing for it to stick to the tops of the scones.