Grilled Caprese Salad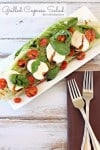 1 romaine heart
6-8 grape tomatoes
2 oz. fresh Mozzarella Cheese
4-5 basil leaves
balsamic glaze (which is thick balsamic vinegar)
Split the romaine down the center leaving the core in tact, so as you grill it the leaves don't fall off.
Heat grill or grill pan,
lightly oil the lettuce and place cut side down.
Cook 3-4 minutes, until lettuce is lightly charred but not wilted.
Add tomatoes that are sliced in half for a minute onto grill pan, (if using a grill larger tomatoes will work better)
Remove Romaine and place on serving plate,
top with fresh mozzarella, tomatoes, basil and drizzle with balsamic glaze and add salt and pepper to taste.