Lemon icing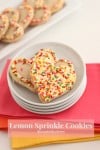 1 1/2 cups powdered sugar
1 tablespoon corn syrup
1 tablespoon water
1 teaspoon lemon extract
2 drops egg yellow coloring
Mix all ingredients with a whisk or spatula until smooth and adjust consistency with a little more water or powdered sugar as needed for desired consistency for piping.
I use a 10 second icing, in the bowl I drag the spatula across the icing and in 10 seconds you can no longer see the line that a made.
I piped the icing onto the cookies with a piping bag fitted with a #2 tip and pressed the iced cookies into a shallow dish of sprinkles for them to stay and be pressed into the icing, so they wouldn't fall off when the icing dries.
Allow icing to dry for several hours before stacking or packaging cookies.