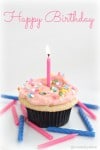 ½ cup sugar
1 egg
¾ cup flour
¼ cup milk
4 tablespoons butter melted
1 tablespoon oil
1 teaspoon baking powder
½ teaspoon vanilla extract
In bowl with mixer beat sugar and egg until creamy and smooth.
Add in flour milk, butter, oil, baking powder and vanilla and blend until it's combined with out beating.
Fill cupcake liners with 3 tablespoons of batter. (This will fill 8 cupcakes liners with 3 tablespoons of batter each) If you fill the cupcake liners more full, you'll get less cupcakes.
Bake at 350 degrees for 15-18 minutes, check with toothpick until it comes out clean.
Remove cupcake pan from oven and let cool 5 minutes before placing cupcakes onto a cooling rack to completely cool.
I made a batch of Italian Buttercream Frosting Recipe, there is more than enough to frost these cupcakes, I simply place the remaining frosting into a container and place it in the fridge to use later, it easily lasts a month in the fridge, just bring it to room temperature and re-whip it.
I added a drop of egg yellow coloring and three drips of light pink Americolor coloring to a cup of the frosting that I used on these cupcakes and topped them with confetti sprinkles.