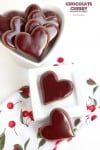 1½ cups powdered sugar
1 tablespoon corn syrup
2 tablespoons unsweetened cocoa
1 teaspoon vanilla extract
2 teaspoons cherry extract
2-4 tablespoons water until desired consistency is reached.
1 drop red food color
Mix all ingredients together until smooth,
Fill the piping page with a #2 tip and pipe icing onto completely cooled cookies.
Allow icing to dry completely before stacking or storing.