Chocolate Cherry Cookies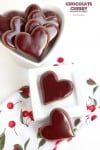 1 cup butter
1 cup brown sugar
1 egg
1 teaspoon vanilla extract
1 tablespoon cherry extract
1/4 cup melted and cooled 60% cacao Ghirardelli Chocolate Chips
2 tablespoons unsweetened cocoa (I use dutch process)
3 cups flour
2 teaspoons baking powder
1 teaspoon salt
Preheat oven to 400 degrees.
In large bowl, beat butter and sugar
Add in egg, extracts, and chocolates and mix until combined.
Add in flour, baking powder, and salt and mix well.
The dough will pull away from sides when combined.
Roll out dough to 1/4 " thick in between wax paper sheets.
Cut with cookie cutter.
Place on parchment lined baking sheets and bake for 7 minutes.
Allow cookies to cool on baking sheets before removing them.