Chocolate Cannoli Cones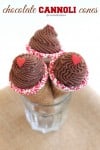 12 sugar cones
3.4 cup white chocolate melting wafers (I use Merckens)
1/4 cup red, pink, white nonpareil sprinkles
24 oz whole milk ricotta cheese
1/4 cup cocoa powder
1/2 cup powdered sugar
1 teaspoon vanilla extract
12 large heart sprinkles
For this recipe, you will want to drain the excess water out of the ricotta cheese, place cheesecloth or paper towel into a strainer, spoon ricotta cheese on top of the cheesecloth or paper towel, allow it to strain for an hour in a bowl in the sink. If you strain it longer, place it in the refrigerator. You can do this part overnight as well.
Squeeze any excess moisture from the ricotta by twisting the edges of of the cheesecloth or paper towel and applying a small amount of pressure onto the cheese.
Melt the white chocolate and dip the edges of the cones into it, then into sprinkles, allow this to dry completely before filling the cones.
Mix ricotta cheese with sugar, cocoa and vanilla until smooth.
Pipe the mixture into the cones (I used a #195 tip)
Place heart sprinkle on top.
Serve immediately after filling for best results. If you pre fill them, the cone will become a bit soft. Store in refrigerator.