Valentine Pretzel Toffee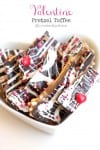 8 oz pretzel sticks
10 oz Dark Chocolate (I used Merkins Melting wafers)
1/4 cup white chocolate (melting wafers)
1 cup butter
2 cup sugar
2 tablespoons Valentine Sprinkles
Lay pretzels flat on a 1/4 sheet pan.
Boil butter and sugar until it reaches 298 degrees on a candy thermometer.
Pour toffee over pretzels and spread smooth with an offset spatula.
Chop chocolate and place over hot toffee, it will melt as you spread it evenly with an offset spatula.
Heat the white chocolate in a microwave proof bowl and drizzle on top of chocolate.
Shake sprinkles on top of chocolate.
Let the chocolate and toffee cool completely before cutting. You can put the tray in the fridge to set it up faster if you are in a hurry.
Cut or break apart toffee and get everyone addicted to this, it will only take one piece I'm sure!