Coal Cookies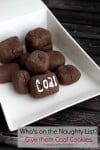 1 cup salted butter
1 ½ cups powdered sugar
3 tablespoons dark cocoa powder
1 tablespoon oil
1 egg
2 teaspoon vanilla extract
21/2 cups all-purpose flour
2 teaspoons baking powder
1 teaspoon salt
*I've also made these and added 1 teaspoon molasses and they were so yummy too!
Cream together butter and powdered sugar and cocoa.
Mix in oil, egg and vanilla.
Blend in flour, baking powder and salt.
Mix until the dough forms a ball and pulls away from side of mixing bowl.
Portion out a tablespoon and a half of cookie dough for each cookie, roll it into a ball and then, make the sides flat by pushing it onto the counter (almost like slapping it onto the counter) to shape them into irregular square shapes.
Bake at 400° for 7 minutes.
Cool completely before icing.
Write the word Coal on some of the cookies with Royal Icing (recipe here)
Allow icing to dry completely before stacking.