Orange Cream & Chocolate Cupcakes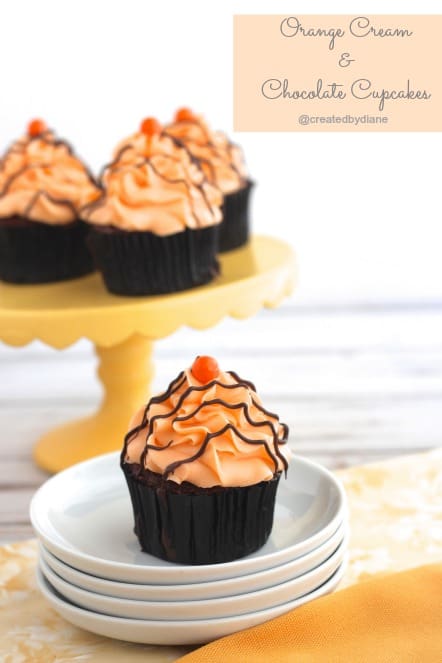 Orange Cream is pretty much a staple in the summer.
I can remember seeing the signs for Kohr Bros. all the way down the boardwalk.
Well since we are no where near the Jersey Shore now and it may be a while before we see Kohr's again.  I thought I'd make some cupcakes to kick off the summer with a new twist on an old favorite.
If you close  you eyes when you bit into this, I bet you can imagine it tasting like orange sherbet and custard….
on top of a cupcake and not a cone, and well….this version won't drip down you arm, so it has it's advantages.
I looked around  to see how the Jersey Shore is coming along after Hurricane Sandy. Are you curious too, here is a live feed of Seaside Heights, new boardwalk and all. I walked along that area on the old boardwalk, many, many times. It's nice to see what they have rebuilt.
We always joke that orange cream tastes like Johnson's Baby Asprin, which I don't even know if they make any more since I never hear about it, haven't seen it in YEARS but we still mention it all the time.
Another version is orange Pez Candy, that is similar.
Well my husband loves orange cream, so these were made with him in mind and they passed his taste test with flying colors. I'm not going to mention how many he had!
Orange Cream & Chocolate Cupcakes
Ingredients
1 box chocolate cake mix (I used Betty Crocker German Chocolate) and ingredients to prepare mix.
1 teaspoon orange emulsion (or orange extract)
Orange Cream Frosting
1 cup butter
4 cups powdered sugar
1 tablespoon milk
1 1/2 teaspoon orange emulsion (or orange extract)
2 drops orange color (I use Americolor Coloring)
chocolate drizzle
2 oz chocolate candy melts
toppers
Instructions
Prepare cupcake mix according to package directions, adding in the orange emulsion with the other liquids.
Pour batter into cupcake pans lined with cupcake papers and bake according to directions.
Let cupcakes cool completely before frosting.
Frosting
Place butter in mixer bowl and beat until smooth, add in sugar, milk, orange emulsiona and orange color.
Add more powdered sugar if it's not stiff enough 1/4 cup at a time as needed.
Pipe onto cupcakes with a 2D tip (how to video here on piping cupcakes)
Chocolate Drizzle
Melt chocolate candy melts in microwave in a microwave safe bowl until thin and smooth, then transfer to a plastic bag with small hole cut into corner and drizzle over cupcakes.
Place an orange Sixlet candy on each cupcake.
\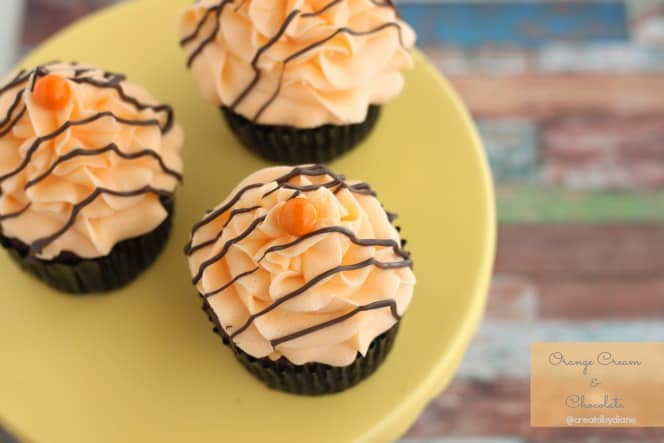 These may just be a new summer favorite since there is no Kohr Bros. nearby! I'm sure they will be making another appearance again REAL soon.
Tell me what flavors remind you of summer?