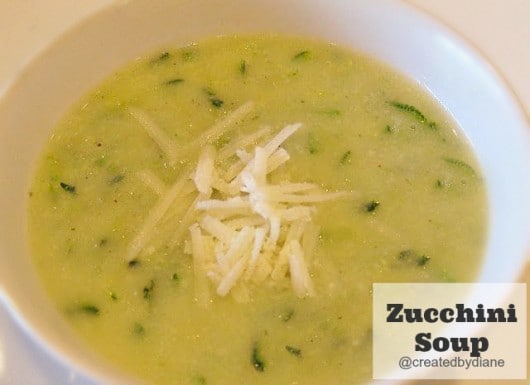 I always think twice before I write "cream soup" I don't always use cream and have found healthier options to make cream soups. That way I'm able to enjoy them more often. I love soup and someday hope to learn a trick to make soup photograph well. Soup is hard to photograph and I was relieved to hear so from a very experienced food photographer. I have lots of photos of soups I've made and cringe at what they look like and often don't bother posting them, soup doesn't look unappealing when I'm eating it, but the photographs sometimes are unappealing.
Today I am going to share with you a recipe I love, it's cream of zucchini soup and I know it will be delicious with squash as well. Susan at Blackberry Jam Cafe is inundated with squash and I mentioned I have a recipe that I think will work To my surprise I have not shared this recipe, but make it at least once a month. It's simple and easy and I joke that it is one of my 10 minute soups, I've never timed myself when I've made it but it goes so fast, it sure seems like only 10 minutes.
If you have a lot of Zucchini this is a great way to use them. I also love them marinated with olive oil, oregano, garlic and olive oil and grilled, but today…Soups On!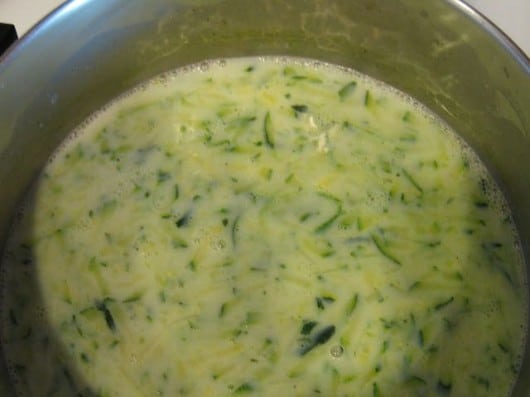 Zucchini Soup Recipe
 6 zucchini
1 onion
  chicken bouillon.
 3 cups skim milk
4 T flour
 Grate 1/2-1 cup grated Romano cheese
 Salt and pepper to taste
Grate the zucchini and dice the onion
place in sauce pan and just cover with water, bring to a boil.
add 1-2 Tablespoons chicken bouillon.
next pour in 2 1/2 cups skim milk,
 blend 1/2 cup milk with 4 tablespoons flour. mix well then add in gently while stirring.
Grate 1/2 cup grated cheese, I prefer Romano, Parmesan will be just as good, Cheddar or Jack is certainly another alternative.
Salt and pepper to taste
I like to add more cheese on top just before serving.
Doesn't it seem like it will only take ten minutes.