Italian Wedding Soup is one of my all time favorite recipes and I'm happy to be sharing it with you.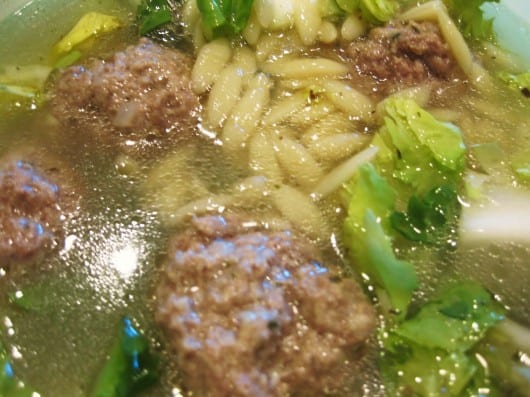 I remembered to snap a photo as I was putting away the small amount of soup we had left over,
we all gobbled it up it was so good
The weather today was cool & crisp
No better day for soup
This has always been my favorite, it's simple to make and a really great meal that everyone will enjoy.
Italian Wedding Soup
1lb ground beef
1 lb ground pork
1/2 cup breadcrumbs
1 egg
1/2 cup Parmesan cheese
1/8 tsp gr. pepper
11/4 tsp oregano
mix together and make meatballs ( I use the medium pampered chef scoop-I think it's 1 1/2 T.)
place on wax paper while you bring
bring 6 cups water
to boil
then add 1-2 T chicken bouillon
when water is boiling drop in meatballs and cook for 10 minutes
then add 1/2 package orzo pasta
cook 8 minutes
(I also added 1/2 diced onion)
cut up 2 cups escarole and place some in each bowl
then add the soup to the bowls and top off with some  Romano cheese which is my favorite.
If you like this or any other recipe on Created by Diane be sure to share the post with the ones you love. You can click on the "share" buttons on the top and the bottom of each post, you can share it on social media or in an email.
~Sign up for email updates and GET delicious recipes delivered right to you! Plus get my free e-cookbook too.
Thanks ~Diane