It's
 February
 are you ready for some
 February Fudge
well it could be anytime fudge,
since I made it for February,
I made it pink
you can use any color candy melts
1 1/2 cups pink Candy Melts chips
1/2 Cup butter
2 cups sugar
3/4 Cup evaporated milk
Pinch of salt
1 Cup coarsely chopped pecans, shelled
Add pink Candy Melt chips and butter into a large mixing bowl.Place sugar, evaporated milk, and salt in a medium heavy bottom saucepan. Bring to a boil over medium heat and cook for about 10 minutes, stirring occasionally. Remove from heat and immediately pour over chips and butter in mixing bowl. Beat mixture on a low speed for 5 minutes and then increase speed to high for another 5 minutes. Stir in pecans and pour candy into buttered 8 in. square pan, I buttered Wiltons brownie bites pan, but had some difficulty releasing them, the other I did were in mini cupcake liners they do not pull off the paper well. I should have used an 8 in. square pan.
 Chill until set and then cut into small squares.
Makes about 2 lbs.
Colored candy melts taste like white chocolate
so you can easily adapt this recipe with any color you like.
A perfect little Valentine's treat!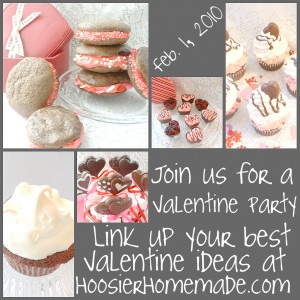 HERE
and see all the other great Valentine ideas that linked up!
There is also a PINK PARTY
going on over at
Blooming on Bainbridge
click 

HERE

 to find out all the details
there is still plenty of time to join in on the fun.